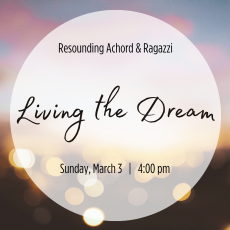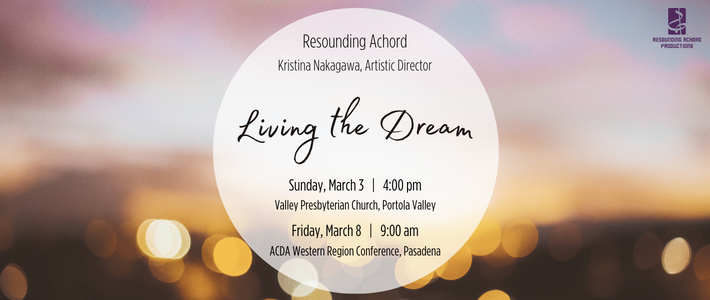 Resounding Achord is overjoyed and honored to have been selected to perform at the 2024 ACDA Western Region Conference in Pasadena. This special program takes the audience on a journey of someone chasing the dream of citizenship and the hope of belonging. We begin with a celebration of birth and youth, and then move quickly to longing for the simplicity of childhood. The anchor of the program is Saunder Choi's haunting quodlibet "I Came to Your Shore as a Poor Wayfaring Stranger," which combines the well-known folk hymn Poor Wayfaring Stranger with a new setting of Ravindranath Tagore's Stray Birds. The program continues with a bilingual piece in Spanish and English that describes what true home and belonging feel and look like, and then ends with "Ffe Mwe, Mwe Ffe" by Joan Szymko as we embrace all of humanity in celebration.
For our local audiences, we are excited to join with Ragazzi Boys Chorus, also selected to perform at the conference, for a special send-off concert on March 3 in Portola Valley. Don't miss your opportunity to see this very special program!
Date: Sunday, March 3, 2024 4:00 pm
Location: Valley Presbyterian Church, 945 Portola Rd, Portola Valley, CA 94028
Date: Date: Friday, March 8, 2024 9:00 am
Location: ACDA Western Region Conference, Pasadena
Tickets will be on sale soon.