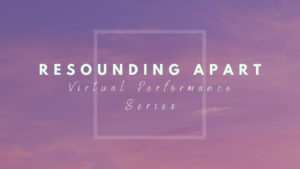 In the world of COVID-19, we were unable to sing in-person out of respect for the safety of both our audiences and our singers. To remain connected, we producied virtual recordings of the choir. Because "virtual choir" didn't appropriately describe what we have been doing, we have decided to call this series of virtual performances Resounding Apart. Please read about each piece, and click on the episode title to watch them on YouTube or visit our YouTube channel to see all of our virtual performance offerings.
Matthew Culloton's arrangement of  How Can I Keep From Singing has been an important piece for us since we first performed it in the spring of 2018. Besides Matthew Culloton's own choir, we are the only group to have access to this particular unaccompanied arrangement. We thought it would be the ideal first episode for Resounding Apart because it expressed how we have all been feeling since quarantine began. We may not be able to sing in person with the people we love, but we can share that same spirit virtually. Please enjoy.
"We walk in love, united in purpose. We join our hands and lift up one voice. We speak the truth with strength and compassion, resounding with hope, with courage, and joy." These are the lyrics from the first verse of We Walk in Love, by Deanna Witkowski.
For this video release, we chose to highlight two organizations that work to promote equality and social justice. We believe that Black Lives Matter, and the ongoing officer-involved shootings and racial injustice in our world cannot go unrecognized. We ask that you consider donating the cost of a concert ticket to one (or both) of these wonderful organizations.
The San Jose African American Community Service Agency (AACSA) is the only multi-service African American Center in Northern California. They take pride in their multi-focused pillars of education, health & wellness, economic development, social services, and family resources.
The Equal Justice Initiative was founded over 30 years ago by Bryan Stevenson, the author of "Just Mercy," and this organization is committed to changing the narrative about race in America.
Love Is, by Tesfa Wondemagegnehu, uses text from 1 Corinthians, paired with Lin-Manuel Miranda's famous 2016 Tony Awards speech.
To complement this video release, we are proud to amplify the work of the LGBTQ Youth Space. The Youth Space was established in 2008, and is a program of Family & Children Services of Silicon Valley, a division of Caminar. The Youth Space provides a confidential drop-in center and free counseling services for lesbian, gay, bisexual, transgender, queer, questioning, and ally youth and young adults, ages 13-25, who live in Santa Clara County.
In 2018, our very own Galt Johnson arranged Phil Collins' Take Me Home for Resounding Achord's concert of the same name.
We are proud to honor Galt's wishes to amplify the work of the Billy deFrank LGBTQ+ Community Center, established in 1981. As Resounding Achord continues to build our community through song, we recognize that there is both beauty and great strength in diversity. "The Billy DeFrank LGBTQ+ Community Center strives to be the community's premier resource hub and a recognized leader in promoting health, strength, diversity, and inclusiveness."
Resounding Achord produced a 20+ minute virtual concert to help our friends celebrate the holidays from the comfort of their own home. We invite you to enjoy both the full-choir and small-group performances of some of our favorite and most fun holiday repertoire. The performance was released on December 20, 2020 and is still available for your enjoyment.
For our spring 2021 Resounding Apart series, created song pairings. Each project includes a song from our February 29, 2020 "Pure Imagination" concert, which was our last live performance, paired with a virtual piece. The first pairing is William Byrd's "I Have Longed for Thy Saving Health," arranged by Alfred Whitehead, with Kirke Mechem's Baroque-style masterpiece, "Satan Hates Music." Kirke's piece was one of our favorites from the Pure Imagination concert, complete with lots of laughter and a very irritated Satan, played by tenor Greg Melton.
This pairing features Elizabeth Alexander's "How to Sing Like a Planet," which opened the Pure Imagination concert in 2020. The text encourages us to "Bloom periodically. Hunker down when you must…Know that annihilation's possible any time, But expect a bright tomorrow's coming anyway." The second piece is "Star Light" by composer Trevor Tran. Trevor received his undergraduate degree at San José State, his masters degree at Temple University, and now teaches high school music in Florida. We had a lovely meeting with Trevor to talk about his piece, and we each found a deep connection to the youthful act of wishing upon stars. In the video you can see some of the singers' wishes.
It has become a tradition for us to feature treble and bass singers separately on our concerts. This pairing honors that tradition. The first piece is Stevie Wonder's "Superstition," from the Pure Imagination concert, arranged by the incredibly talented Kevin Redrico. Cody Scott directed the piece and also appears as the lead soloist. The second piece, "Run Away" by Stuart Chapman Hill,  is a collaboration for our sopranos and altos with the Teen Treble Ensemble from Vivace Youth Chorus of San José.