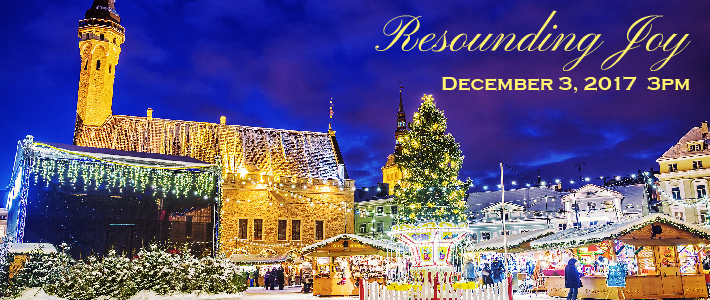 Get into the holiday spirit by attending this festive concert of music for choir and pipe organ, featuring organist Michael Burroughs.

The program includes Kim André Arnesen's transcendent "Magnificat" with soprano soloist Danielle Marie, along with inventive arrangements of holiday favorites by Healey Willan, David Willcocks, and John Rutter.

Join us for this festive concert featuring the incredible organ at:
First Congregational Church 
1985 Louis Road, Palo Alto, CA.
Resounding Joy

Kristina Nakagawa, conductor, Resounding Achord
Michael Burroughs, organ

Prelude and Fugue in f minor, BWV 534
J.S. Bach (1685-1750)
Hodie, Christus natus est
Healey Willan (1880-1968)
Magnificat
Kim André Arnesen (b.1980)
Danielle Marie, soprano
Annie Yung, soprano

INTERMISSION

In Dir ist Freude
Giovanni Gastoldi (1554-1609)
Improvisation on "In Thee is Gladness"
Michael Burkhardt (b. 1957)
A Babe is Born
William Mathias (1934-1992)
O Come, O Come Emmanuel
arr. Allan Robert Petker (b. 1955)
Ding dong! Merrily on High
arr. David Willcocks (1919-2015)
The Wexford Carol
arr. Douglas E. Wagner (b.1952)
Lo, How a Rose E'er Blooming
arr. Bradley Nelson (b. 1962)
Christina Galisatus, french horn
Bring a Torch, Jeannette, Isabella
arr. Peter Latona (b. 1968)
Silent Night
Franz Xaver Gruber (1787–1863), arr. Sandra Peter
Away in a Manger
arr. Antony Baldwin (b. 1957)
Joy to the World
arr. John Rutter (b. 1945)