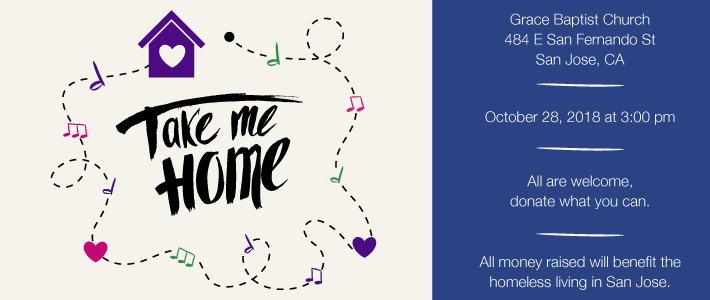 Join Resounding Achord for "Take Me Home," a choral music program centered around home, shelter, and community. Highlights include two new arrangements written for the choir, the US premiere of Ariel Quintana's "Furusato," and heart-stirring folksongs from America, Africa, and Cuba.
All donations collected for this concert will benefit two organizations that support the homeless in Santa Clara County: Village House, an interfaith women's shelter, and the Winter Faith Collaborative, a Santa Clara County movement of faith communities with a common aim to shelter their neighbors who live outdoors.
All are welcome! A free will offering will be collected a the door, or you may donate online when reserving your tickets. Advanced reservations are recommended.
Take Me Home

Unclouded Day
arr. Shawn Kirchner
No. 1 from Heavenly Home: Three American Songs
Beati Omnes
Ivo Antognini
The Roof
Andrea Ramsey
Molly Shaw, piano, & Joel Pattinson, violin
We Are
Ysaye M. Barnwell
The Road Home
Stephen Paulus
Kelli Ghanati, soloist
Son de Camaguey
Cuban Folk Song, arr. Stephen Hatfield
Andrew Hathaway, Brian Kroneman, Benjamin Kuhn Reardon, & Kevin Schieberl, percussion
Sisi ni moja (We are one)
Jacob Narverud
Molly Shaw, piano; Brian Kroneman & Benjamin Kuhn Reardon, tenors
Furusato
Teiichi Okano & Tatsuyuki Takano, arr. Ariel Quintana
US Premiere Performance
Homeless
Paul Simon & Joseph Shabalala, arr. Kristina Nakagawa
Christina O'Guinn, Jerry-Michael Hernandez, & Keith Byron, soloists
Homeward Bound
Marta Keen & Gustav Holst, arr. McKay Crockett
Galt Johnson, Andrea Bolivar, soloists; Brian Kroneman, Benjamin Kuhn Reardon, & Cody Scott, tenor trio
Take Me Home
Phil Collins, arr. Galt Johnson
Jerry-Michael Hernandez & Jo Taubert, soloists
Andrew Hathaway, percussion
Angel Band
arr. Shawn Kirchner
No. 2 from Heavenly Home: Three American Songs