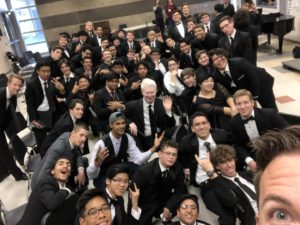 By Kristina Nakagawa, Artistic Director, Resounding Achord
What is a gift? Noun: "a thing given willingly to someone without payment; a present," or "a natural ability or talent. Verb: "give (something) as a gift, especially formally or as a donation or bequest." At Resounding Achord, we have been fortunate in the past 6 years to experience gifts in all forms of the word.
We have been presented with tremendous gifts from our donors and sponsors. There are many ways to support our organization, and we are grateful for every amount of support we receive. This year, we have experienced an uptick in donations through social media crowdsourcing, meaning an additional $1500 (and counting!) to support our programs. Gifts like these make our outreach programs possible, including the Summer Conducting Lab, the IMPACT program for students to attend our concerts free of charge, and the Regional and All-State Honor Choir scholarships. Yesterday, we received a thank you note from one of our scholarship recipients in the Central Region Honor Choir. Jared C. says,
"I just wanted to say a HUGE thank you for the scholarship. Words cannot express how much it meant to me. This was my first honor choir and it was so incredibly fun to work with such talented singers, not to mention Dr. Palkki. He's so insightful and fun to work with. This whole experience has really strengthened my resolve to someday be a choir director myself, and that's all thanks to you."
Jared, thank you for articulating precisely why we support this program. You are the future, and you will give the gift of music to so many people around you as you grow. Our ability to (verb) gift because of our supporters' (noun) gifts is one of the most important things we do each season.
We have experienced incredible talent from our own singers, as well as from our collaborators and friends. On Saturday, December 22nd, our audience members will have the opportunity to experience our singers' gifts once again as we present "Deck the Hall" in the Parish Hall at St. Francis Episcopal Church. The program includes many of our favorites from past seasons, including "Deck the Halls in 7/8," the Biebl "Ave Maria," and Kirby Shaw's jazzy arrangement of "Carol of the Bells." Also at that concert, we will have a Giving Tree, where audience members will have the opportunity to take an ornament and make a specific gift that represents an expense for Resounding Achord Productions, including the cost for one student to attend an honor choir, the cost of one piece of music, and the cost to hire a collaborative artist. In return for any gift made at the concert, each donor will receive a special thank you gift from us, especially created for the season.
Join us for "Deck the Hall," Saturday, December 22, at 2pm at St. Francis Episcopal Church in Willow Glen. To purchase tickets, please visit our Event Page.